The Moment This Homeless German Shepherd Realizes She Is Safe, She Reveals Her Friend To Rescuer
|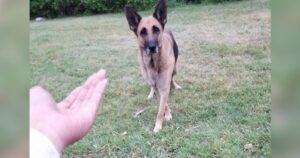 Judy Obregon of Fort Worth, Texas, has extensive experience in the field of dog rescue. She works for The Abandoned Ones, a local animal rescue organization. Unfortunately, she's discovered that a wooded area near Echo Lake Park is a favorite spot for individuals to dump unwanted pets. She makes it a point to visit this area on a regular basis in order to assist as many pets as possible. Her writing isn't always full of happy endings, but when it does, the result is fantastic.
Judy first came upon this German Shepherd at this "dumping ground." Every time Judy drove up to check on her, the abandoned dog bolted. She understood she needed to earn the dog's trust, but she also realized she'd need a lot of patience to do so. "At first, she'd run when she saw my truck," she wrote. "I'd go feed her every morning." When Judy arrived one morning, she discovered that the dog had been waiting for her. "I had a feeling we were getting close to saving her."
The terrified German Shepherd disclosed a secret on this fateful morning.
The dog retreated back into the woods, and when he reappeared, he was accompanied by a fearful bulldog with scars on his face.
"If you take me, you take my friend, too!" the German Shepherd argued. Judy remarked.
The backstory isn't entirely apparent. "I wish these dogs could talk," says another. Nobody knows how the dogs met, but it was evident that they had become companions and defenders of one another. Judy brought them both with her.
The German Shepherd was given the name Iris, and the Pitbull was given the name Clover. They've both been to the vet, and Judy was relieved to learn that neither of them has heartworms. She's currently on the lookout for a forever home for the two dogs.
Both Iris and Clover are healthier and happier already.
"I said the same thing to her every day for her to know my voice and trust that one day her life would change," Judy said on Facebook. "It's all so rewarding when we can change the fear they have into a smile."