COPS RESCUE 'UNWANTED' PIT BULL AND GIVE HIM A HOME AND A JOB
|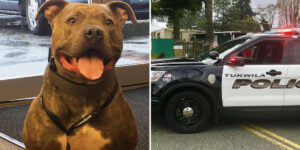 When you see a pit bull, how do you react? Do you run in fear? To get away, do you cross over to the other side of the road?
You're not alone, but you're mistaken about the breed! Pit bulls, like all other dogs, are not aggressive unless they have been trained to be.
At the shelter, Apollo, a pit bull, was consistently disregarded. People assumed he was a vicious canine.
Apollo was thankfully adopted and now has a job! Apollo was sent to the shelter by a police K9 canine trainer, who agreed to examine him. Apollo turned out to be an excellent choice for being a police dog because he was eager to please!
Apollo was passed over by K9 handlers again the next year. It appears that the attractive dog's quest of finding his place in the world will be difficult. It was once again his kind that had betrayed him. Apollo completed his narcotics dog training in November of last year, finishing first in his class!
Don't be alarmed the next time you encounter a pit bull. The majority of pit bulls are just like any other dog. The pit bull is likely to be a big darling if the person on the other end of the leash is a pleasant person!