Officer Saves Freezing Dog Struggling To Survive, But That's Not Even The Best Part Of The Rescue
|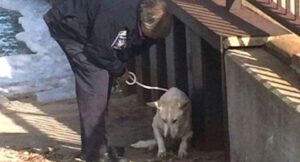 A stray dog that nearly drowned in Lake Michigan's cold waters has found a lifelong home with a woman who witnessed his dramatic rescue on television.
When a passerby saw the white dog, now named Michigan, struggling for his life, he slipped through the ice on the lake. She dialed 911, and policemen were on the scene immediately to save the dog. Michigan was treated for hypothermia at the Wisconsin Humane Society while his owners were sought.
After it became evident that Michigan's original owners would not come forward to claim him, numerous individuals applied to adopt him.
The Wisconsin Humane Society chose Brenda Thompson to be Michigan's new mom after analyzing hundreds of applications. Brenda said she went straight to the shelter after seeing him on the television.
"I pulled on some clothes and rushed over here." Since I saw that story, I've been here pretty much every day," she tells TMJ4.
She's going to make sure they get off to a good start now that she's legally adopted him.
Brenda says, "The first thing I'm going to do is take him for a nice long walk." "He has his bed all made up. He'll be greeted with brand-new bowls and toys. He's all set to depart. "I believe this is the start of a wonderful friendship."
Brenda got a black Lab after Hurricane Katrina, and Michigan will have a sister as well.
Watch Brenda pick up Michigan from the shelter and tell your friends and family about his happy ending!