Rescuers Save Three Scared Dogs Stuck On Mountainside In Freezing Weather
|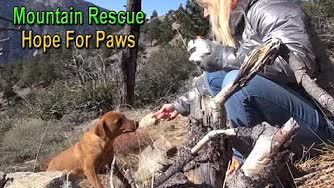 Hope For Paws usually rescues stray dogs from city drains and busy highways, but in this case, they went up into the Wrightwood Mountains to save three stranded sisters.
Local rescuers had tried unsuccessfully for more than a week to save the three terrified dogs. Eldad Hagar and Lisa Chiarelli arrived to help in below-freezing weather, so I can only image how chilly it was for the dogs at night!
They were fortunate enough to capture Ginger on the steep mountain and drag her to safety! They then set up two traps and asked the other rescuers to keep an eye on them while they drove Ginger to the veterinarian. Sage had been apprehended by the time they arrived at the hospital, and Emma had been apprehended two days later!
SoCal Labrador Rescue found homes for all of the dogs.
Share this rescue story with your friends.