Woman wakes to find an unknown dog on her patio furniture that refuses to leave
|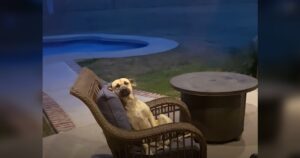 Are you a dog or animal enthusiast? Do you enjoy spending time at home with your pets? Amy Haden and her daughter live in a wonderful house with a lovely yard, where they live quietly with two pets. She was getting ready for work one morning when her daughter alerted her to the presence of a dog on their porch.
She stated that she had just let the dogs out that morning, not thinking anything of it. Amy, on the other hand, was taken aback when her daughter answered, "No, this dog is not ours." And when she went outside to their back porch, she saw for herself that the dog outside was not theirs.
"Whose dog is that?" Amy asked her daughter.
"I don't know… it's not the neighbor's dog. I know they don't have a dog that looks like that," her daughter replied.
Amy laughed as she continued, "Just chillin' on the porch."
He was also making himself at home. He was sitting on the back of one of the porch chairs, staring at them while they stared at him. It was almost as if he was expecting them to show up and hang out with him.
They initially assumed he was merely out for a walk around the neighborhood, but he actually belonged to someone. However, they knew he felt at home when they discovered him in the same location when they returned home at the end of the day and the next morning.
So, what would a responsible neighbor do in this situation?
Amy enlisted the help of her neighbors to figure out who the owner was. She emailed her neighbors and even put a Facebook post up about him, but no one claimed him. She didn't give up, though. She went to the vet to have a microchip checked, but none was found.
As a result, they decided to take him home for the time being and figure out what to do with him later. While caring for Walker, they resumed their hunt for the owners. They couldn't come up with a name, so they asked the TikTok community to name him.
Amy recounted, "She told us she had been praying for a dog like him and that we were the answer to her prayers."
Walker, although being such a sweet dog, was unable to get along with Amy's other dogs. She had to find him a new home.
When their hunt for Walker's prior owner proved fruitless, they decided to find him a new home. They had to make a difficult decision because they had grown to adore Walker. However, the cost and time commitment of caring for three dogs had become too much for her and her daughter to bear.
Fortunately, they were able to find a new home for this sweet dog with a little old lady.
It's so great that Amy paved the way for them to find each other.
While Amy's story had a happy ending, it won't always be the same for each lost or stray dog we meet on the roads or in our house. The RSPCA have shared a few tips on what to do.
If the dog is injured or sick, contact your local animal shelter or animal welfare organization right away so that the dog can receive proper medical attention.
If they are healthy, though, proceed with caution. Don't put your hand on the dog's head or tower over him. You can sit and wait for them to approach you while speaking to them in a soft, soothing tone. Check to check whether they're wearing a tag with their owner's information when they come to you and allow you take care of them.
If not, take them to the vet to be checked out and for a microchip if there is still time. Make contact with your neighbors to find out who owns the property. Make a social media post. Posters should be put up.
If you can't locate the owner, decide whether to retain them or find them a new home.