This video of dogs in wheelchairs playing fetch will inspire and warm your heart!
|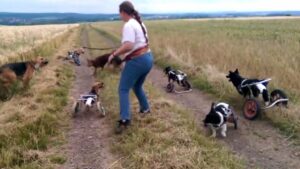 Prepare to be incredibly inspired by an incredible woman and her incredible pets! Gritta Gotz, of Lanzenheiner, Germany, manages an animal sanctuary and has rescued more than 20 dogs from shelters. Even though eight of her canines are in wheelchairs, they enjoy playing a friendly game of group fetch with a couple of their four-legged siblings. They appear to be having the time of their lives!
You're a SAINT, Gritta! Your dogs (both in and out of wheelchairs) are PRECIOUS!
Watch the video below and share it with friends and family.