Man Saves Dog Hanging Near Highway Overpass By Electrical Cord
|
According to dogfull.com, a man was in the right position at the right moment to save a dog dangling from an electrical cable near a motorway bridge.
When David Fredman was driving to work in Independence, Missouri, he came across the puppy along the I-70 overpass.
"I spotted what appeared to be a dog dangling from the side of some sort of electrical box." Fredman told Fox4 KC that the cord was obviously strangling him. "His feet were barely touching the ground," says the narrator. He was attempting to turn his head left and right but was barely able to do so."
Fredman dialed 911 right away and then grabbed a knife to liberate the dog. He spotted the dog attempting to breathe as soon as he cut the dog free. He couldn't walk, either, but he brought the dog to the KC Pet Project after settling him down.
They learned the dog was microchipped and named Max, as well as the fact that his owner, Dee Vaughn, had been searching for him. Vaughn was happy to learn that Max had been located only two hours after reporting his dog missing, but he was devastated to learn what had happened to his 16-year-old dog.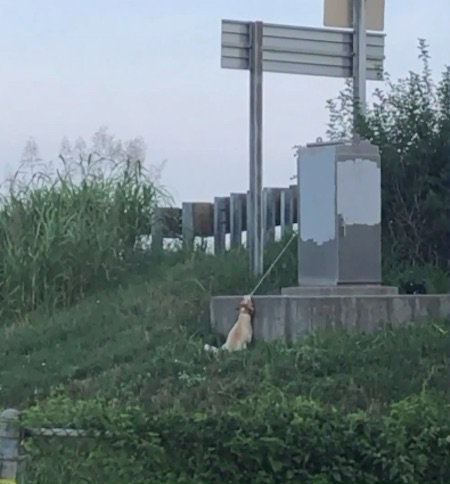 It's unclear how Max got into the predicament. Was it an accident or did someone purposely try and hang Max? Vaughn said there's no way his senior dog could have walked the mile to where he was found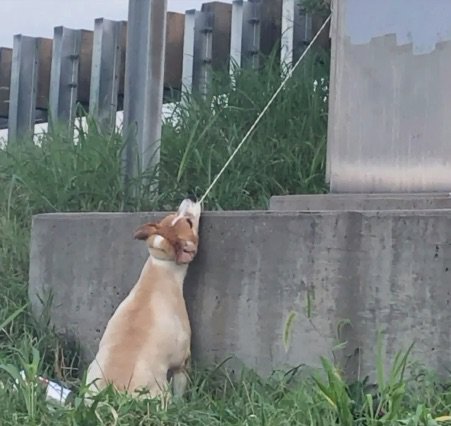 But he told the news station that surveillance cameras may reveal what befell his dog. Certainly the electrical cord around Max's neck points to suspicious activity. Vaughn said he has called police and was told to contact animal control, which he plans to do.
But he's just grateful that Max is home safe thanks to Fredman. He had a chance to thank Fredman in person and told him, "Thank you, David, so much. You stopped what you were doing to turn around and save my dog's life."