FIRST WARM BATH FOR BADLY INJURED PIT BULL RESCUED FROM FIGHTING
|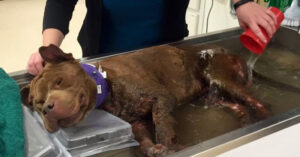 A real estate agent who got lost and ended up among what appears to be dog fighters' trash discovered one dog alive. Real estate agent Casey Lawrence found the injured Pit Bull abandoned in the woods after getting lost while showing a property in Rock Hill. Dog fighters probably used the dog as a bait dog before abandoning it and letting it die. There were bones and animal carcasses all around him.
Thankfully, Casey discovered the dog—now known as Rambo—in time. She hurried Rambo to the Baxter Animal Hospital. Rambo was badly hurt, covered in bite marks and abrasions, and his leg wounds had developed gangrene. The team of the facility got to work on trying to save Rambo's life. They meticulously cleaned his wounds.
He received IV antibiotics, and they kept a tight eye on him. Rambo was able to sit up and somewhat wag his tail after two days.
Much to the relief of his veterinarians, he even showed some interest in eating.
Rambo is still in difficulty, which is unfortunate. His right hind limb was so severely injured that it had to be amputated.
Rambo was sent to Charlotte Animal Referral & Emergency (CARE) for additional care due to the severity of his wounds.
According to CARE's Facebook post, "The ties around his ankles have certainly caused injuries to both of his hind limbs." Despite the trauma he has undergone, "he is a trooper and will wag his tail and give kisses."
The left leg of Rambo is "still in limbo," according to the medics, and they are working to save it.
Every Life Matters Animal Rescue is supporting Rambo during his recovery. In a strike of good fortune it turns out that realtor Casey is a board member for the rescue! They wrote the following update on YouCaring after Rambo's first surgery: "He's been very out of it today from the anesthesia but he knows your there, when you leave he puts his paw up for you to come back."
The rescue team is reportedly hoping that police investigate the area where Casey found Rambo to see if they can identify the perpetrators of the illegal activities.
Until then, Rambo's rescuers are crossing their fingers for continued progress! He is such a courageous man!
Rambo is lavished with attention and lives in a lovely, loving family.