Two Small Puppies Found Abandoned At The Park, They Didn't Deserve It At All.
|
A call came to Hope For Paws from a kind woman, who found 2 dogs trying to fend for themselves in a park. She managed to take the dogs into her porch while waiting for the help to arrive. She also looked around to see if they have owners, but she did not find anyone.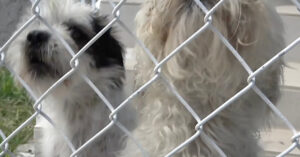 Katie McKittrick arrived at the home and quickly got to know the little cuties. Ernie and Mulligan were so friendly and happy to tag along over to CARES where they would get much-needed baths and love. Katie said that the dogs were so happy and friendly with her.
Watch the video below: