Cute Guide Puppy Prevents Sleeping During His First Photo Shoot
|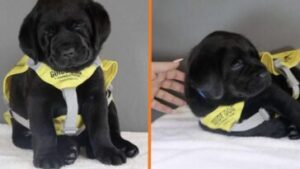 Benny is a charming young puppy who was born at the Guide Dog Foundation, which indicates that he will eventually hold a very important job.
He will either become a guide dog for a person who is blind or visually impaired or a service dog for a veteran or first responder in need.
When Benny was six weeks old, his Guide Dog Foundation friends brought him to his initiation photo shoot.
Little Benny was obviously thrilled to be the focus of their excitement as they captured him in beautiful pictures.
Unfortunately, at the time of the photo session, Benny was in dire need of a nap. Here is the cute video:
As the photo shoot began, Benny made an effort to hold on, but it was ineffective. He entered a beautiful slumber as he had passed the point of no return.
According to Rebecca Eden, the online marketing coordinator of the Guide Dog Foundation, "Benny appeared sleepier than ever throughout the shot, and we could see him going to doze off, so we hurriedly began shooting just in time to watch him gently tip over."
You can hear one staff member saying "Goodnight" as he drifts off while the photographer and other members of our nursery staff were all laughing.
Despite Benny's best attempts, his exhaustion was simply too much. However, we aren't upset about this because it made the photos the photographer was able to shoot to announce Benny's acceptance into the program even cuter.
For seven months, Benny has been effectively trained. One day, he'll make the perfect service or guide dog for someone who needs one.
However, for the time being, it's good that he just excels at playing and napping.