HUSKY WAS CHAINED FOR HIS ENTIRE LIFE, NOW HE SEES AN EMPTY FIELD FOR THE FIRST TIME
|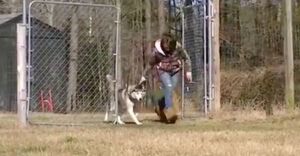 Dogs require frequent exercise, some companions with whom they may socialize and play, as well as a ton of affection! Additionally, it helps if they have a sizable area to run in.
Unfortunately, some pets are mistreated and abused, leaving them without the necessities of life.
Biscuit, a Siberian Husky, was one of nine dogs who spent their whole lives chained up and confined to kennels on a property in Kentucky. For his entire existence, he had never had the opportunity to stretch his legs and run, and he had never been able to do what puppies do best.
But eventually, he and his comrades were freed from captivity, and the rescuers realized that they still had a lot of catching up to do in terms of enjoying life's simple pleasures.
Biscuit is transported to a big 6 acre field with trees, grass, and lots of interesting things to discover. He starts sprinting at full speed as soon as he is given free reign to move around. In no time at all, he will be properly stretching his legs for the first time in his life, smelling at every possible location, and learning what it is to be a dog. He is eager to spend the rest of his life discovering new places!