Bonded Dogs Split At Shelter Reunite In Heartwarming Story
|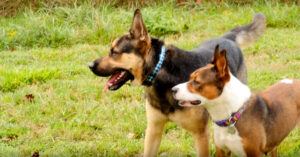 At a shelter, two bonded stray dog companions were split up, and then months later… This occurs!
Abby Riley was taken to Adams County Puppy Rescue together with another dog after being found as a stray. When Abby snuck out of her cage and was discovered lying at her companion's side, it was discovered that they were a bonded couple despite being placed in different kennels.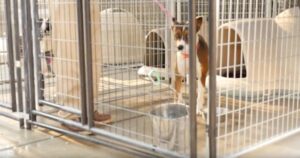 Yet because he was a social dog, her best pal was adopted right away. But before she could be adopted, Abby had to go through further training. After her recuperation, Abby found a wonderful forever home within six months. Soon later, Abby's new family decided that having a companion would be fantastic for Abby.
They got in touch with Rebecca and Alycia of Animal House TV and asked if they might assist in finding a second dog. When Alycia and Rebecca called Adams County Pet Rescue, the shelter manager informed them that the dog with whom Abby had formed a bond had been brought back to the facility.
It was fate! These two were destined for each other! In response to the good news, Alycia and Rebecca went to retrieve the German Shepherd and prepare him for seeing Abby again. After grooming him, they drove him to meet Abby.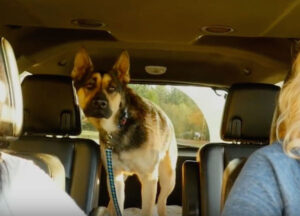 Because nobody knew how the two canines would respond to seeing one another, they were kept apart by a fence and on leashes. You may watch what occurs when Abby and her boyfriend reunite after a long time apart around 5:37 in the video. What a sweet love tale!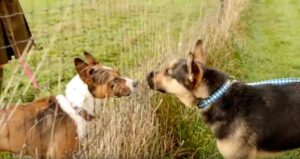 Alycia and Rebecca sincerely hope that prospective adopters will welcome bonded pairings into their homes and hearts. They claim it's uncommon, but they hope that after seeing this love tale, people will think about it. Not only do dogs develop enduring relationships with people, but they also do so with one another.
Share this touching story with your friends and family!