Every week, Dog patiently awaits her favorite garbage man.
|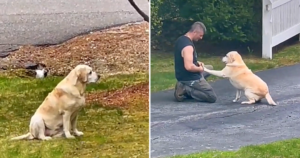 Man's best friend is a dog; For the majority of them, man equals everyone!
That is how dogs generally act and who they are. Even if you seem afraid of them, they will approach you close and try to become friends with you. You will win them over with a few treats!
Although it begins with treats, their affection for a person is based on trust. It's similar to the bond you form with your neighbor's dog when they see you often or when you give them a good pet when you pass by their yard.
Lily is one of the neighborhood's friendly dogs.
Ishaan Chatterjee, her owner, thinks of her as his best friend, but he had to admit that she also had other best friends. He observed that his friend always waved to anyone who came by, making it impossible to make friends with people who would like to say hello.
View this post on Instagram
When she saw a canvasser or mailman, she was always ready for a wave and a pet. Sadly, not everyone stopped by to observe this affectionate dog.
Exceptions include the garbage man.
Lily began to notice that her family would empty the garbage cans on Thursday nights, and a truck would come the following day to pick them up. She wondered if this guy might become her next best friend!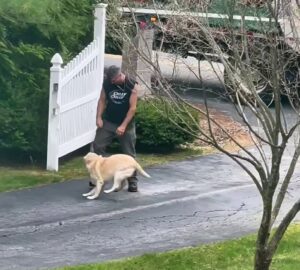 As she awaited the truck's arrival, David, a sanitation worker, saw her nearby. Lily seemed to enjoy the friendly head pat he gave her. That was the beginning of their friendship.
David has continued to show up on time since then, carrying treats in his pockets.
This became the Friday morning routine for Lily and David: David goes down to give Lily a pat and some treats before he emptys the family's bin and leaves, and she waits patiently until the truck comes to a stop near the gate. Every. Single. Time!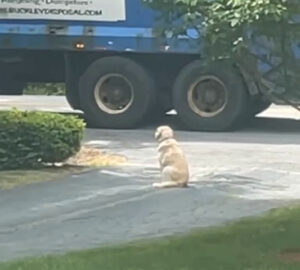 Ishaan enjoyed watching the two of them by the window as their friendship developed beautifully. He didn't want to interfere, so he took photos of those priceless moments. He just wanted to show people how beautifully we connect with animals.
He uploaded these videos to TikTok, which were watched numerous times.
The first video he uploaded received approximately 750,000 views, while the subsequent video received more than 2 million! The friendship that these two shared was adored and thoroughly enjoyed by everyone.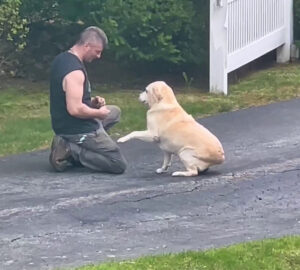 He added the text, "I think it's the best part of both of their days," to one of his videos. David's generousity in providing her with treats and Lily's tail-wagging whenever she saw the garbage truck are obvious.
Additionally, Ishaan informed The Dodo that their interaction had inspired everyone to be kind.
He stated that "their relationship has blossomed into the sweetest thing." Ishaan went on to say that although Lily has always been friendly to anyone, he knew that her connection to David was deeper.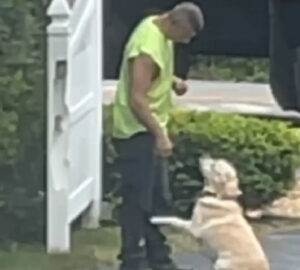 In the same interview, he also stated that Lily and David demonstrated what kindness is and ought to be. It didn't matter who they were or what they did; Lily was kind to them back. Simply put, kindness is simple.
The video of their adorable exchange can be found below.