Stray Pit Bull Can't Stop Smiling After He Was Rescued
|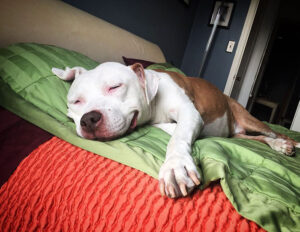 Anyone who believes pit bulls are frightful should view Brinks.
Look at that smile, please! Brinks was discovered as a stray walking the streets of Brooklyn, so his tale isn't entirely happy.
He ran across Jon and Demo one day, and the three of them clicked immediately away. Brinks was lost, so Jon made the decision to bring him inside.
He searched for a month without success before realizing that Brinks, who was only 11 months old at the time, was meant to stay.
12 years later, he's still smiling!
The most astounding thing, according to Jon, is how Brinks frequently grinned like a human when he was in an enjoyable scenario.
He smiles when you give him food, when you say "good morning" to him, and even while he's asleep.