This rescued goose and mini horse who were adopted together share the sweetest friendship
|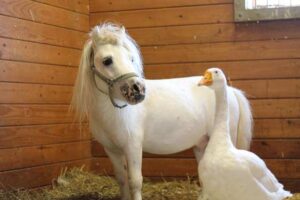 It didn't take long for the globe to fall in love with a little horse named Waffles and a goose named Hemingway after they first appeared online. The cute pair was discovered living in appalling conditions on a farm in Pennsylvania, and the Bucks County SPCA rescued them. Rescuers brought in Waffles and Hemingway along with a number of other barnyard animals, but they soon realized they were different. They had an unexpectedly close bond, and it became apparent that they should be adopted as a unit.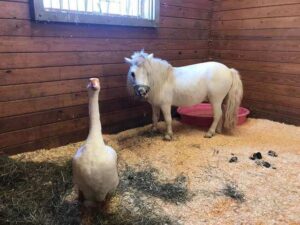 Shelter manager Rachel Freeman attributes their close relationship to their common circumstances. The miniature horse and goose cohabited a stall and managed to get by without adequate water or shelter. Freeman said to Fox29:
Together, they have experienced everything they have. It would have been terrible for us to bring them in here and separate them.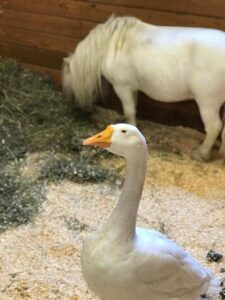 Waffles and Hemingway were always a team at the shelter. Hemingway was with his best friend Waffles when a vet paid a visit. The shelter workers decided that they should always be kept together because they didn't want to be apart. The shelter understood the unexpected best friends would require a unique home even if the other animals were ready for adoption. They required a person who would guarantee that the two barn animals would always be together as well as someone who could take care of two barn animals.
Waffles and Hemingway attracted everyone's attention in their search for the ideal family. When the shelter shared their tale on social media, press organizations all around the nation fell in love. The odd buddies were highlighted on "Good Morning America" by ABC, and soon everyone was talking about the little horse and goose that wouldn't part.