Firefighters Rescue Donkeys From Wildfire!
|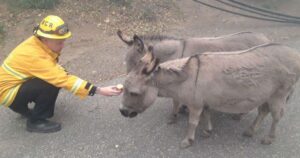 When two kind firefighters saved two fearful donkeys from a deadly wildfire, they were able to exhale in relief. As they were traveling down the road in Paradise, California, firefighter Chris Harvey and Sacramento fire chief Gary Loesch observed the frightened animals. They then staged an emergency animal rescue using a few delicious cupcakes.
The unfortunate donkeys were trying to escape the terrible Wildfire that raged through the Paradise neighborhood in the Sierra Nevada foothills and claimed the lives of both people and domestic and wild animals.
These two animals were fortunate that the sympathetic firefighters lured them to safety by offering them delicious cupcake treats and reassuring them that everything would be okay. The animals were rescued by animal control, and even though it is unknown where they came from, tales like this show that love can still triumph in the face of difficulty and peril!