Mailman Has Amazing Encounter With Dogs At Home
|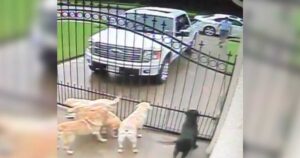 Generally speaking, mailmen and dogs are adversaries — more so on one side than the other. It's a well-known cliché that dogs get upset with the mailman in some way, causing them to yelp and run after them.
The dogs can be irritated that the mailman has the opportunity to deliver the mail because they would prefer to do so, or they might think they are bravely defending their home by chasing this potential intruder away.
In any case, the dynamic between mailmen and dogs in the film below is given a nice twist.
Recently, a mailman in Texas was seen on a particular home's surveillance video playing with the dogs.
The dogs are waiting impatiently at the gate to see him, so it's clear that they are looking forward to his arrival. And I don't blame the mailman for feeling forced to give them everyone a lovable pet. Such a cute sight is impossible to resist.
The fact that the mailman does not pay one dog more attention than the other is one of my favorite aspects of the video. He makes sure to assure each dog that they would each receive special pats and love for being such excellent, amiable canines!
The canines are owned by Aaron Hernandez's family, who also tweeted the footage. With more than 100,000 likes and more than 32,000 retweets, it immediately became popular.
Aaron told The Dodo, "I believe that was extremely thoughtful and wonderful that he took time out of his busy day to do that.
And to top off this charming tale, this encounter has actually happened before. Aaron says the mail man had previously stopped by his gate to kindly greet his five pets.
Aaron believes it might signal the start of a wholesome routine.
Hernandez remarked, "He's a new mailman around the neighborhood and I spotted it a couple of times. "I figured it was time to tell everyone,"
I think it's fantastic that Aaron doesn't mind the mailman taking a short break from his day to interact with the amiable dogs. It's obvious that the dogs' excellent behavior came from their wonderful owner.
Even when we aren't home to show our dogs love we can always depend on the mail man to give it to them even on rain days now this is love ❤️ pic.twitter.com/qgQYUFrYCV

— Aaron (@aaronh177) August 7, 2017