MALAMUTE AND DUCK BECOME BEST FRIENDS AND WARM HEARTS EVERYWHERE
|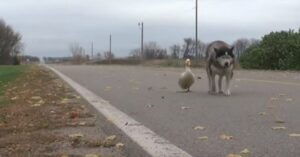 This odd couple resides in Strout, Minnesota, a small community of about 25 residents, with their owners, the Rileys.
Shortly after Max the malamute lost his husky pal Sasha, the Riley family brought home some baby ducks.
Max came into Quackers, a duckling in a cage who had lost some of his own companions. Max sat near to Quackers' pen, and the two quickly developed a unique friendship.
The Rileys eventually permitted the duo to come face to face, and they have never parted ways since.
Kristen Riley notes that "everything is shared," including eating, drinking, and going outside. Everything is done collaboratively.
They appear to be greeting onlookers as they sit in a piece of grass beside a country road after visiting a nearby park and walking about their home together. They share a bed at night and wake up next to one another.
It is a privilege to catch a glimpse of Max and Quackers or to take their picture, and their smiles bring smiles to many people.