COWBOY DEDICATES 11,000 ACRES TO A WILD MUSTANG HORSE SANCTUARY
|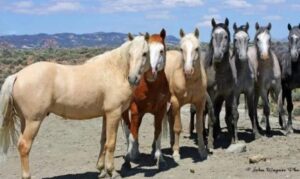 Dayton O. Hyde, an American cowboy, battled his neighbors and the government, but he never gave up.
After much thought and work, Hyde created the Black Hills Wild Horse Sanctuary in South Dakota, which is now home to over 500 wild Mustangs.
Hyde was born on March 25, 1923. In addition to his passion for horses, he is widely known for being a writer and conservationist.
Prior to becoming into a cowboy, Hyde worked as a rodeo photographer.
It all started when he traveled to Nevada in 1987 to purchase cattle and embark on his mission to save the wild Mustangs. Hyde was shocked to discover wild horses that had been detained by the federal government when he arrived.
Published by Black Hills Wild Horse Sanctuary on December 24, 2010.
Hyde felt that taking a wild horse out of its natural home and taking it into a corral was just too harsh.
Hyde was determined to save these untamed Mustangs because he had always loved horses since he was a small child. His goal was to create a sanctuary where these beautiful animals might live in peace and freedom.
It was not an easy journey, though, and Hyde had to fight his way there.
Governor George Mickelson of South Dakota offered to show Hyde some land there that may be used as a refuge after learning about his idea.
The property was located in the Southern Black Hills' Chilson Canyon, next to the Cheyenne River.
Despite strong opposition from the community and the local government, Hyde and Mickelson decided to work together and form a partnership.
Dayton O. Hyde said, "If you're telling me it couldn't be done, then that's the wrong thing to say to a cowboy," in the 2013 documentary Running Wild: The Life of Dayton O. Hyde. Take a look at the trailer below.
When Hyde founded The Institute of Range and the American Mustang (IRAM) in 1988, he started to bring his plan to life.
The nonprofit IRAM is responsible for the preservation and protection of America's wild horses. That September, horses began to arrive at the Black Hills Wild Horse Sanctuary.
Among the first Mustangs to arrive was the stunning two-year-old blue roan filly named Prairie Lark. Together, Hyde and Prairie Lark explored the vast preserve and set free hundreds more horses.
After that, Hyde gave these horses his entire life. He would work nonstop every day to ensure that the horses may gallop freely without fear, shielding the wild horses from uncertain futures.
The refuge was operated "seven days a week; without pay or vacations," according to Hyde as well.
Hyde, who was ninety-three years old, had a full life before passing away on December 22, 2018. He's been dubbed "the warrior," "the cowboy," and "the most deadly man in American conservation."
Hyde's legacy lives on in the Black Hills Wild Horse Sanctuary. In the breathtaking plains of South Dakota, on 11,000 acres, hundreds of Mustangs remain free to roam.
Tuesday night trivia! It seems fitting that this series comes to an end on New Year's Day, as this little child is just…
The IRAM is still trying to save American Mustangs, Spanish, Curly, and Choctaw Indian Mustangs, to name just a few endangered lineages and bands.