Wearing church clothes and heels, a woman rescues a horse from an icy pool.
|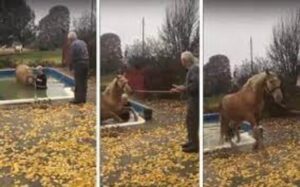 Denise Casares is a retired horse trainer from Hopkins County, Kentucky. She frequently looks after her neighbors' horses while they are away from home, and she has a particular relationship with a striking chestnut stallion by the name of CD.
When CD stepped on the cover one Sunday in 2017, he broke out of his confinement and plunged into a swimming pool. Denise, still in her church dress and high heels, hurried over as soon as she heard the news!
Denise said WFIE News that CD, who she adores and nicknamed "Bubba," lost one eye due to abuse at the hands of his previous owner. Despite falling into the cold, deep end of the pool, he was able to make his way to the shallow end.
Although the exact duration of his captivity under the cover is unknown, Denise surmises that he would not have fared well for an additional hour.
Denise plunged into the icy water at his side, knowing that CD would trust her. After over half an hour, she succeeded in convincing him to get out of the pool; this moment is captured in the second segment of a video that Robin Murray posted on YouTube.
After drying out and warming up, Denise and CD are both doing great. Nevertheless, the pool did not fare as well. It will need to be replaced, says Denise.
The fence that allowed CD to escape has been repaired.