Hero Dog Max Swims Out Into River To Rescue Drowning Boy
|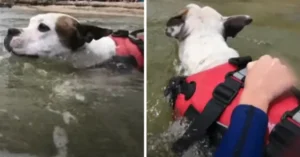 A family dog rescued the life of a young boy who was sucked out to the deepest part of a river and was "only seconds" away from drowning.
Canine hero Max, a staffy-bulldog mix, swam out to the distraught kid in the river mouth, wearing a life jacket with a handle that the boy could grasp.
Max was able to safely return the child to dry land, earning him the title of Port Noarlung's newest four-legged hero.
When Rob Osborn, Max's owner, was standing along the riverbank, he noticed the boy in distress.
"The tide was coming in, sucking the boy over all of the large rocks, into a very deep section of the river over here," says the narrator.
If the pair hadn't lifted the alarm, the boy would have drowned in a matter of seconds, according to a witness.
But, before Rob could even get in the water, he realized Max had already started swimming out to the troubled boy.
Mr. Osborn urged the boy to call Max's name and swim to shore by grabbing the handle of the dog's personal life jacket.
"He's certainly a hero, he just doesn't realize it," the proud owner said. He was just following orders."
Max's breed has a bad reputation for being aggressive, but his heroic actions can help to change that image.
"Max is such a hero that he deserves a medal. So gentle and courageous, but regarded as risky by the rest of the world."