Owner Has To Pretend Dog Needs Ear Medicine Because His Sister Does
|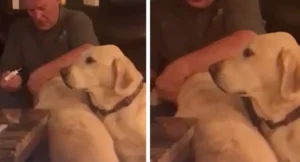 An lovely puppy believes he needs ear treatment because his sister does in a fantastic video that depicts all that is nice and pure in the world.
Cache, a golden labrador, eagerly awaited his time to receive some of the therapy, which consisted of placing medicine in the dogs' ears and then stroking them – presumably for medical reasons, potentially as a reward for being a good doggo.
Chloe Copley published the video on Twitter, which showed a man caring for one dog while pretending to care for the other. You'll be relieved to learn that the second dog's ears were still rubbed.
Watch the heartwarming video here:
She went back, tail wagging, to make room for her brother, who obediently took his place in front of the guy and sat without being asked.
The man replaced the cap on the medicine, fooling Cache, and went about his treatment routine.
He added some narration for good measure, saying'squirt squirt squirt' as he held the medicine to the fluffy boy's ears to ensure the dog was truly convinced by the act.
He was told the procedure was 'all done!' as soon as he heard it. With his "newly treated" ears, the excellent dog leapt to his feet and went about his business.
Chloe shared the video on Twitter, writing:
MY DOG HAS EAR MEDICINE SHE NEEDS AND THE OTHER ONE ALSO THINKS HE NEEDS IT TOO.. NOBODY HAS THE HEART TO TELL HIM IT'S PRETEND..
I wouldn't have the heart to inform him, especially after he waited patiently waiting for his fake medicine.
The video has been seen over 10 million times and retweeted over 300,000 times, with thousands of comments expressing admiration for the befuddled Lab.
One adoring viewer wrote:
LABS ARE SUCH WONDERFUL BEINGS..
— chloe copley (@chloecopley_05) September 13, 2018
— chloe copley (@chloecopley_05) September 13, 2018
— chloe copley (@chloecopley_05) September 13, 2018
Cache's deception has made me wonder: we all assume he's the one being duped, but perhaps he's merely managed to persuade the rest of the world of his ignorance, and is secretly aware that the medicine is false, but keeps returning for those pleasant ear rubs.
To be honest, I don't blame him. He deserves all the scratches since he's so cute.