120lb Great Dane takes care of adorable 'scared' puppy
|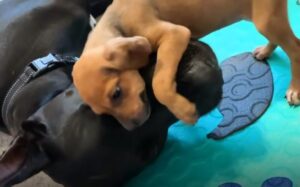 As they say, like attracts like. Luna and Zeus, a small puppy and a 120-pound Great Dane who fell madly in love the moment they met, seem to bear this out. Just wait until you hear about this tiny love story if you thought you had heard enough cute pet stories. You're going to feel nothing but love in the conclusion.
Luna's Tale
Nobody is aware about Luna's birthplace or her family members. She was discovered unattended in a cardboard box on the side of the road, with no information pointing to her place of origin. The little dog was transferred to Love and Rescue in Houston, Texas, after a nice Samaritan found her.
Dina, a volunteer with the shelter, offered to provide her a temporary home until a new permanent family could be found. Luna initially required almost continual care. She shook practically frequently since her encounter had left her so traumatized. She had to be hand-fed, taking little licks from, as she was unable to walk and hardly able to eat.
Dina began by eating with her hands before switching to a spoon over time. She whimpered everytime Dina tried to pat her and tried to hide as much as she could because it was obvious she wasn't used to being handled or stroked. Dina recounts to The Dodo, "When I first acquired her, she was shaking all the time. She was sobbing nonstop. The sound was just heartbreaking. A dog has never appeared to me to be more down.