Woman flies 2,500 miles with abused puppy, then demonstrates her affection for it
|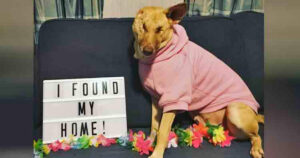 This dog, who is blind, deaf, and is missing an ear, was subjected to a great deal of abuse before a woman decided to fly her to her after seeing her picture.
Animal abuse situations are horrifying, and we find it difficult to understand how someone could harm an innocent animal in such a cruel way. Examples include cats who have been shot, and dogs whose mouths have been taped shut so tightly and for so long that their skin has grown around the tape.
One puppy that had been abandoned on the streets of war-torn Lebanon wasn't very alive. The five-year-old dog was chained to a crate, blind after having her eyes ripped out, and deaf after having one complete ear removed. She was also unloved and uncared for while she was pregnant.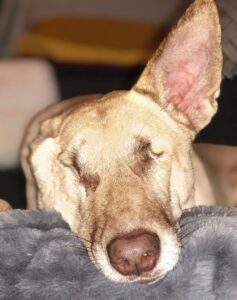 Although it's normal for dogs to be abandoned in the country, a man walking down the street noticed the distraught animal and knew he had to save her.
The stranger drove the puppy to the Wild at Heart Foundation, a UK-based rescue group that assists abandoned animals in finding new homes. The brave girl was given the name Maggie by the workers, who were astounded by the extent of her injuries while inspecting her.
Maggie was obviously blind, deaf, and missing an ear. However, a second examination indicated that Maggie had been shot with a pellet gun 17 times.
Maggie was in such horrible shape that some rescues might have had to put her to sleep. Not this girl, though. Something about her was simply worth preserving.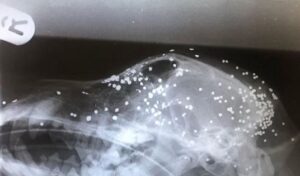 In an effort to inspire someone to adopt Maggie, the Wild at Heart Foundation shared images of her and information about her condition on social media. When Kasey Carlin's mother came across the article, she instantly felt that Maggie belonged with their family.
"My mother saw Maggie's article and insisted that we foster Maggie. I agreed after seeing the photo when I arrived home.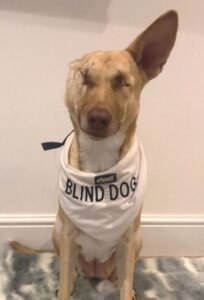 After undergoing surgery to close her eyes, Maggie recovered sufficiently to move to her new house with 25-year-old Kasey and her mother. The distance between them was the main issue—it was 2,500 miles.
Maggie boarded her first airplane and traveled thousands of miles to her new residence.
Kasey had been emotionally struggling, but as soon as she spotted Maggie at the airport, her mood immediately improved. In addition, taking care of a dog with unique needs helped Kasey forget about her own problems.
"When I first saw her at the airport, I was in tears. I contacted a few organizations that help blind dogs in need and asked what to do. They advised her to map out the house room by room. However, we partitioned off the kitchen, and she spent her first night in the crate. She had never touched grass before I took her outside to use the restroom.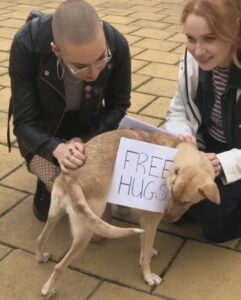 Maggie adapted nicely into Kasey's home despite suffering unspeakably awful abuse and torture.
She is simply brilliant. She is so lively and energized. She disengages from the lead and circles behind me. Despite everything she had to endure, she never mistreated anyone and is incredibly caring. She must have been in torment.
Maggie had been through a lot, but her kind nature allowed her to give back in a way that no one had ever imagined she could. She enrolled in training to become a therapy dog, and now she makes regular trips to college campuses to cheer up students. She'll eventually visit hospitals on her rounds.
"Maggie is unlike any dog I've ever met. I find it impossible to understand why somebody would ever wish to cause harm to such a good and innocent soul. They attempted to crush her spirit… Maggie, however, is unbreakable! She is absolutely unbreakable! She has not only endured hardships in her life, but she has also made the decision to forgive and enjoy each day to the fullest. That, in my opinion, is what makes Maggie so special. She is a perfect little angel for being able to endure such suffering and still have love in her heart, to regain trust, and to truly forgive.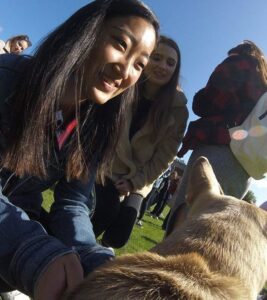 When Maggie was in the shelter, so many people fell in love with her that Kasey set up an Instagram account called "maggiethewunderdog" so that everyone could keep up with her exploits.
Maggie was destined to be so much more than just another victim of abuse, even if she was barely hanging on to life. Today, she not only saves them, but also helps others.